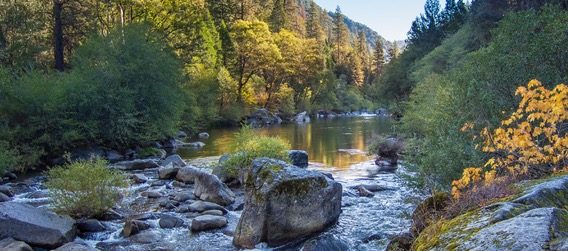 For a number of years, a lengthy legal battle over suction dredging in California has been debated in the courts. A Supreme Court decision has now affirmed that California does have legal authority to halt suction dredging to protect water quality from mining pollution in the state's streams and rivers. And a San Bernardino Couty Court also rejected a number of legal claims that miners have used to try challenge the State's moratorium on suction dredging.
          Suction dredging miners use a motorized pump and a suction nozzle to suck in gravel, sediment, and other material that may be lying on the bottom of streams or rivers. Dredging often turns clear streams to sediment-laden muddy water. Dredging can suck in amphibian eggs or the eggs of fish. And suction dredging can stir up long-dormant mercury left over from the Gold Rush era that may be locked in streambed deposits. When suction dredgers stir up the gravel, sediment, and rocks, the toxic mercury can be released. There can often also be extreme water quality degradation caused when suction dredgers churn up small rivers like the South Fork Stanislaus and turn the water to sludge for some distance downstream from their suction dredging site. An associated problem is that most suction dredging is done without any monitoring or resource protection measures.
         CSERC's director served as a participant in a stakeholder group that the state convened for a year of meetings to attempt to find middle ground recommendations on the controversial topic of suction dredging. Instead, miners and suction dredging opponents both opposed the weak management dredging guidelines proposed by State Fish and Wildlife officials. Eventually the stakeholder process was ended, and the State finalized the weak guidelines.
          In response, various tribal and conservation groups commented on the State plan – criticizing its lack of consequences for resource degradation and water quality impacts. When the plan was nevertheless approved, the plan was challenged by a coalition of conservation and tribal interests, including CSERC. That criticism of the State's plan led to eventual state legislation and an extension of the state's moratorium against suction dredging. Mining groups filed a variety of legal challenges – with their priority claim asserting that states have no right to prevent mining that they see as always being allowed under 1872 Mining Act.
         Since the matter has been before the court, CSERC has only played a minor role in the years-long broad collaborative efforts by conservation groups and tribes to respond to the miners' lawsuits.
         But, based on the recent court decisions, the State is legally entitled to continue its moratorium while the State Water Board and State Department of Fish and Wildlife develop a permit process that could allow suction dredging to begin again in the next year or two. It is CSERC's hope that a new permit process will hopefully curtail the most damaging environment impacts caused by suction dredges and reduce the release of mercury into water.
         The legal success to date (for water and fish protection in this suction dredging debate) is mostly thanks to a coalition of tribal interests, fishing groups, river protection groups, and conservation groups that have collectively advocated for stronger protection of water quality and fish. CSERC is grateful to be a small part of the successful efforts of this effective coalition.
John Buckley
CSERC