Despite promises made in a 2013 management plan, the iconic national park is seeing more vehicles than ever clogging its roads
LA Times –
Louis Sahagun : reporting from Yosemite National Park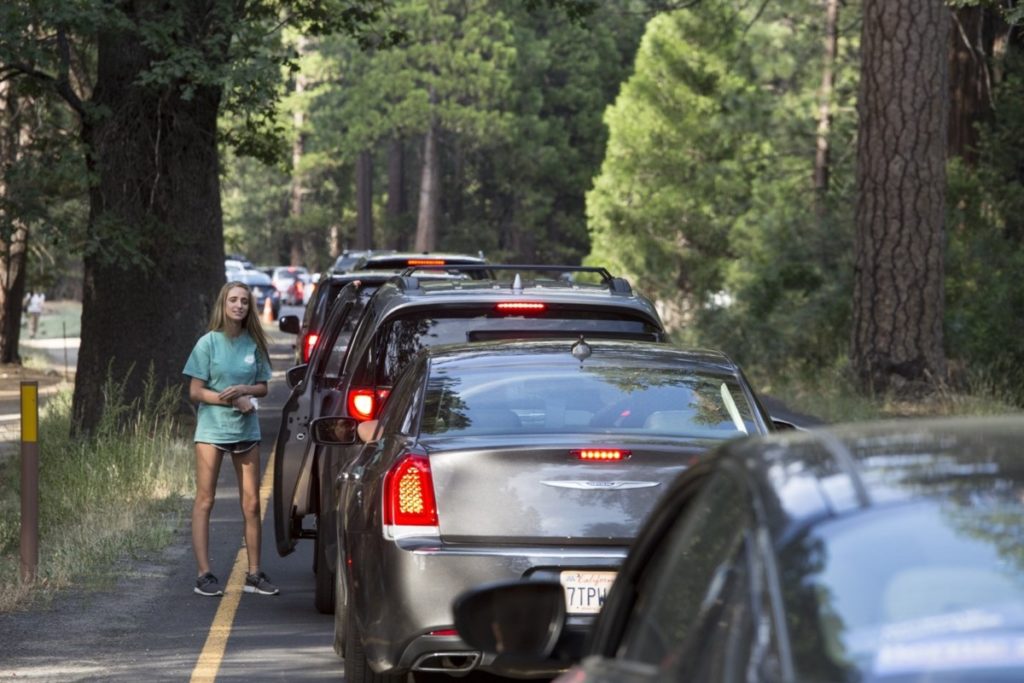 Pierre Celotto and Aurene Humbert had a definite vision in mind when they booked a summer vacation that included a day in Yosemite Valley.  Urged on by breathtaking photographs and nature documentaries, the Parisians said, they looked forward to serene walks along trails where pine trees threw shadows across streams and picturesque meadows teemed with wildlife.
When they arrived at the park on Saturday, Celloto, 31, and Humbert, 29, were greeted by the reality: diesel smoke, honking horns and miles-long processions of buses and cars.  It was close to 10 a.m. when Humbert, her face long and her voice desperate, approached a ranger. "Please, sir, do you know a place to park? You can't imagine how upset we are."  The ranger was sympathetic, but not much help: "Keep looking; you might get lucky."
Despite promises of a "far less cluttered and confused Yosemite" made in a 2013 management plan — an effort to address the congestion without limiting the number of tourists — more vehicles than ever, up to 8,200 on a summer day, are clogging the valley known for its granite cliffs and waterfalls  On especially busy weekends, visitors who must wait just to pay an entrance fee of $30 per car may find themselves diverted to alternative routes away from the valley or back out of the park.
On the day Celotto and Humbert arrived, signs at the park's main entrances warned of delays three hours or longer. Traffic in a new roundabout near Yosemite Valley Lodge had slowed to a crawl. Nearby, dozens of cars were parked haphazardly in a quarter-acre site designated off-limits because it was being restored to meadowland. Along a two-mile stretch of Highway 41 leading from the world-famous Tunnel View down to the valley floor, hundreds of cars were stranded in gridlock.
"Very significant traffic congestion is a truly hard dilemma we're faced with," said Chip Jenkins, acting superintendent of Yosemite National Park. "Getting stuck in a line of cars for two to three hours after entering the gate is not the kind of quality experience we want people to have."  The statistics are not comforting. In 1986, the number of people visiting Yosemite was about 3 million. It took until 2015 to reach 4 million. A year later, the number had soared past 5 million. But with only 6,500 available parking spaces, according to officials, incidents of road rage and reported traffic accidents are up — along with miserable experiences shared on Yosemite's Facebook page.
"Traffic jams are choking one of our most cherished natural wonders," said John Buckley, executive director of the nonprofit Central Sierra Nevada Environmental Resource Center. "Maybe it's time for a federal court judge to decide whether Yosemite is violating its own management plan."  But adjusting the flow of visitors in a national park only a five-hour drive from 18 million people in Southern California seemingly defies simple solutions. And tourism in Yosemite — the heart of the Sierra Nevada economy — generates an annual cumulative benefit to the region of about $686 million, officials said, directly supporting nearly 8,000 jobs.  Buckley, like many conservationists, supports the creation of staging areas outside the valley where visitors could park and board shuttle buses.
However, Mark Thornten, a former member of the Tuolumne County Board of Supervisors, dismisses that concept as impractical, even un-American.  "Traveling through Yosemite is supposed to be an adventure experienced by people in their own cars and on their own schedule," he said. "To be blunt: Buses are socialism and cars are free choice."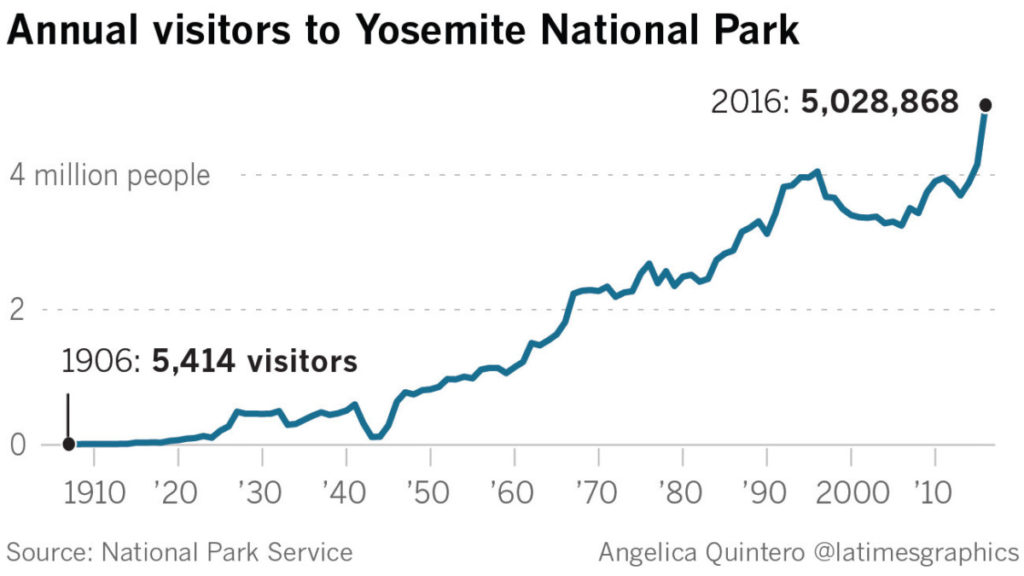 Yosemite's traffic problems date to the late 1950s, when thousands of motorists began jamming the valley to view the "fire fall" — a spectacle in which a cascade of hot coals was shoved over Glacier Point to the valley floor 3,000 feet below.  The show was canceled in 1968, mainly in an attempt to ease congestion. Later, a one-way traffic pattern was established in the valley, a reservation system was adopted for campgrounds and free shuttle buses were introduced inside the park.  In 1980, the National Park Service quietly shelved a controversial proposal to remove all auto traffic from the valley in favor of a park-and-ride mass transit system.
This summer, officials launched an experimental program that makes 150 parking spaces near Yosemite Falls available by reservation during the four weekends in August — the park's busiest month. The daylong reservations can be booked online for a $1.50 service fee.  Yosemite is one of a growing number of national parks experimenting with transportation strategies to reduce crowding.
At Utah's Zion National Park, where tens of thousands of visitors once fought over 400 available parking spaces each day during the peak season, a mandatory shuttle system began operation in 2000.  Later this year, Arches National Park in Utah is expected to approve a traffic congestion plan that calls for more shuttles to curb habitat destruction caused by double- and triple-parking. In September, Southern California's Joshua Tree National Park plans to begin a long-awaited shuttle service.  "The ultimate answer to the groundswell of disappointment among visitors," said Kathleen Morse, Yosemite's chief planner, "is going to require a lot of hard work and public involvement."
In the meantime, with no place to park, many of the 50,000 visitors a day who roam Yosemite Valley's geological wonders on summer weekends will be forced to take snapshots through the windshields of their cars to prove they were there.  Then there's Ernest Smith, 63, who photographed the rivers of cars streaming into Yosemite Valley from a vantage point normally used to capture souvenir images of Half Dome and El Capitan.  Scrolling through the images on his digital camera, the San Diego resident offered this summation: "This place is insane."