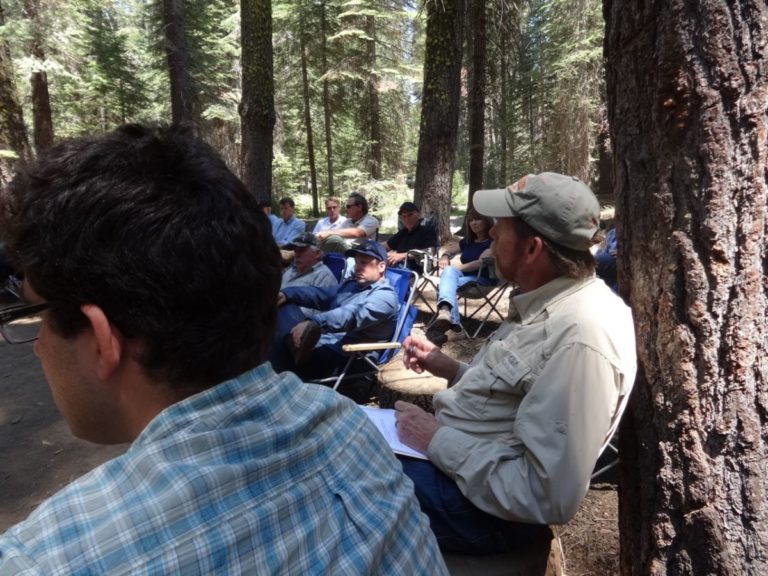 There's no question that logging interests, county supervisors, business owners, biomass industry representatives, and local environmental groups have different priorities when it comes to managing the Stanislaus National Forest. But what has become extremely clear over recent years is that there is a huge overlap of common agreement between all the local interests.
            Accordingly, loggers, conservation groups, politicians, and others all are frustrated that the U.S. Forest Service cannot use that broad stakeholder support to get more done to help reduce wildfire risk and help improve the health of our local national forest.
            The Yosemite Stanislaus Solutions (YSS) collaborative group as well as the Amador-Calaveras Consensus Group (ACCG) have both had broad general agreement for years that an increase in prescribed burning, an increase in the amount of science-based thinning logging, and an increase in the amount of ecological restoration projects are all critically needed. The Forest Service leadership from the Regional Office level to the local Stanislaus Forest level have repeatedly endorsed a greater "pace and scale" of forest treatment projects to get those actions accomplished.
            But after many years of having harmonious support from the two major forest collaborative stakeholder groups, the Stanislaus Forest and Region 5 of the Forest Service struggle to simply get a minimal amount of projects approved and completed each year.
            On August 8th, YSS members and key USFS leaders met out in the forest to view areas that are in urgent need of thinning and prescribed burning. Everyone agreed that there is a huge amount of work that must be done to get drought-stressed, overgrown, fire-prone forests back to a healthy condition. But the Forest Service openly acknowledged that with its limited budget funding, limited staffing, and lots of regulations – the agency is not expecting to see much improvement, if any, in what it gets done.
            CSERC staff openly questioned how the Forest Service could call, year after year, for an increased pace and scale of treatments, yet not make it more clear that the agency doesn't have the capacity to do that essential work. After hours of discussions, YSS was told that the Forest Service will be glad to create a new working agreement to allow YSS to find additional forest treatment funds and additional ways to get project planning done if YSS expects to see any expansion in Forest Service accomplishments in the local Stanislaus Forest.
          As CSERC staff continues to work with other collaborative group members, the shared hope is that consensus-based agreements can actually ramp up the amount of forest treatments that are vital to getting the region's forest back into a more resilient, healthy condition.