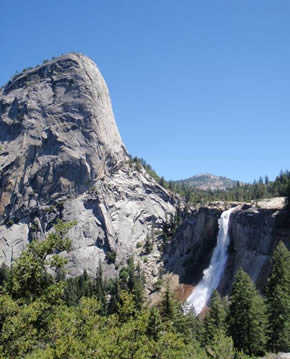 On January 8, 2013, Park Service officials formally released Yosemite Park's long-awaited management plans for (1) the Merced River corridor and Yosemite Valley and (2) the Tuolumne River corridor and Tuolumne Meadows.
Park publicity staff are promoting the preferred alternatives for each of these two major plans, and the Park has lots of positive things to say about their planning process. There obviously are some good things included in each of the two plans. It will take weeks of review for even the keenest watchdog organization to fully understand all the aspects of these thick, detailed plans. But….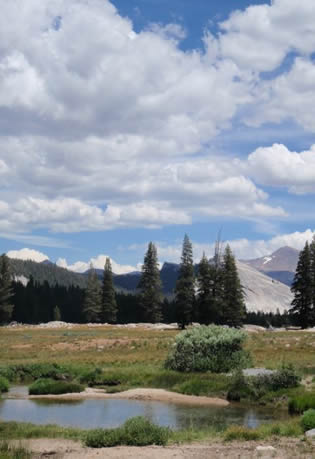 Because our Center has been involved in the river plan process in Yosemite for more than a decade (and because we are deeply involved in these two current plans), we already have identified major concerns.
These two long-awaited plans provide a once-in-a-lifetime opportunity for Yosemite Park to correct flaws in its existing management and to scale back the crowding and congestion that have become the norm in Yosemite Valley and at Tuolumne Meadows. Unfortunately, due to all the pressures on the Park from political and commercial interests, the Park is putting forward "preferred alternatives" that will result in undesirable crowding and congestion far into the future.
In the Merced River plan which includes Yosemite Valley, the Park is planning to manage for nearly 20,000 visitors a day in Yosemite Valley, which has been overly congested for years. Alternative 5 (the Park's preferred alternative) openly acknowledges that a guiding principle is to accommodate peak visitor levels similar to recent years. Those "recent years" have had summer season traffic jams, air pollution, noise, crowding, and a lack of commitment to protect Yosemite Valley as a natural cathedral.
In the Tuolumne River plan, Alternative 4 (the preferred alternative) would keep overnight capacity almost exactly where it is now, with more than 2,700 people crowded into the Tuolumne Meadows area. It would increase day use visitor capacity to more than 1,800 visitors. Similar to the Merced Plan, it is clear that the Park staff is choosing to maximize visitation rather than making protection of these iconic places the highest priority.
"Overall, our Center is disappointed that the Park is setting such high levels of user capacity rather than making it a priority in these Plans to reduce crowding and congestion. Over the years the Park Service has lost twice in court and had multiple legal reprimands from the court for not establishing appropriate user capacity limits consistent with legal requirements for the Merced River corridor. The Park's enthusiasm for maximizing visitor use apparently hasn't changed based on the preferred alternatives for these two latest plans. The Park's preferred alternatives in these plans are deeply disappointing," said John Buckley, CSERC's executive director.
HERE'S WHERE YOU CAN FIND THESE TWO PLANS AND SUBMIT YOUR OWN COMMENTS:
Click here for the Yosemite Park Planning Page
If members of the public who love Yosemite don't get involved and submit comments, then those who hold strong commercial profits tied to maximum levels of visitation will be the lost persuasive voices commenting on these two pivotal plans.