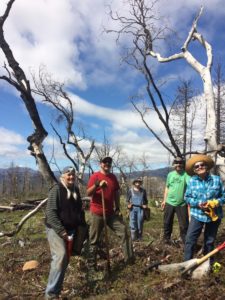 Lineup for 2017 CSERC Volunteer Projects
May 6th -  Clavey River canyon, Mountain Lady's Slipper Orchid survey. STATUS: project postponed to Tuesday June 27th.
May 20th - Trout Creek, OHV restoration (erosion control, vehicle route blocking and naturalization, and more).  STATUS: complete!
June 15th - Leland Gully/Fiddler's Green Meadow, fencing set up around restoration site. STATUS: complete!
June 24th -Wilson Meadow, invasive plant removal. Learn more!
July 8th - Crab Meadow fen, fencing project (major repair to existing fenceline) Learn more!
July 22nd - Thompson Meadow, habitat restoration (erosion control, vehicle route blocking and naturalization, and more).
July TBD - Lake Moran meadow, fencing set up at restoration site. (weekday) Learn more!
July TBD - Shell Meadow, non-motorized vegetation trimming along electric fence line. (weekday) Learn more!
July TBD (late) - Long Valley, native seed collection for restoration site.
August 5th - Deer Creek, habitat restoration (erosion control, vehicle route blocking and naturalization, and more).
August TBD - Long Valley, seed collection and planting at restoration sites.
September 9th - Sand Bar Flat, trail maintenance along river trail. (caution, poison oak in project area)
October 7th - Westside Rail Trail, trail maintenance starting at River Ranch. (caution, poison oak in project area)
Why Volunteer?
Participating in volunteer restoration projects is a great way to give back to the environment and to meet other people who care about environmental stewardship.
For example, in a typical year CSERC staff and volunteers will
plant willows in denuded meadows,
repair crumbling stream banks,
build fences to protect damaged riparian areas,
restore sensitive habitats damaged by unauthorized off-highway vehicle (OHV) activity,
clean up litter along streams or rivers, and
build new trails for public use.
As you can see, CSERC volunteer projects help to restore watershed health, wildlife, and wild places at important areas of our public lands.  As a bonus, working as a team builds friendships as you spend time with others who care about our local mountains. 
Thanks to our volunteers, we accomplish a lot
We have organized hundreds of workdays, and for each one the volunteers are the key to the success of each project.
In 2016 we completed over 16 project days with over 1,450 hours of service and 206 participants. See great photos from the year and more in our 2016 Volunteer Report!
If you want to know more about what our volunteers have accomplished in the past, read our past reports: