There are many beautiful places in the Central Sierra and in the Northern Yosemite region, and some of the best are off the beaten path. Lucky for you, we have created a list of more than 20 scenic destinations to get you started. We add new places regularly, so check back in often.
As mentioned before, some of the places we highlight may be off the beaten path, so please prepare with the appropriate gear, water, maps, etc. before heading out in order to have a safe, fun time. Feel free to contact us (julias@cserc.org) if you have any questions.  We also recommend that anyone driving in the Stanislaus Forest buy a copy of the Stanislaus Forest Road Map from any ranger district office.

Find the beautiful places you want to visit
 Click on any of the places listed below for a drop down description of the destination.
 How to get there: Scroll down to our customized Google Map.  Let us know if you have any questions about directions!
Beautiful summer destinations
Summer is a wonderful time to explore some of the most scenic places in the Northern Yosemite and Central Sierraregion. We have listed some of the most beautiful places below for you to discover. We will continue to share as we discover more.
Preston Falls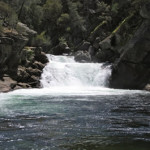 The Preston falls trailhead begins at an elevation of about 2400 feet and is accessed from the Kirkwood Powerhouse off of the Cherry Creek Road, Forest Service Road 1N07. The trail is located in the Stanislaus National Forest and follows the main fork of the Wild and Scenic Tuolumne River for a moderate hike of 8.8 miles roundtrip with an elevation gain of 300 feet. There are many opportunities for swimming in the deep pools where the river is constricted between granitic blocks into a narrow gorge, but beware, the water is very cold since it comes from dam releases off of Hetch Hetchy reservoir, about 12 miles upstream. Wildflowers blanket the meadows as the trail meanders along the river through conifers and oaks. The final destination is Preston Falls, a lovely cascade emptying into an inviting large pool.
Carlon Falls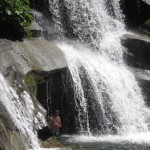 The Carlon Falls trailhead is accessed about a mile down Evergreen Road, off of Highway 120 before the Big Oak Flat entrance gate to Yosemite National Park. While the trail begins in the Stanislaus National Forest, it soon enters the western boundary of the Park, following the South Fork of the Tuolumne River. This easy-to moderate hike begins at an elevation of 4,320 feet, is 3 miles roundtrip with a 200 foot elevation gain. The trail is covered in shade most of the way and meanders through mixed coniferous forest and riparian woodlands.
Once you reach Carlon Falls you'll want to take plenty of time to relax, swim, and enjoy the views of the 45 foot high waterfall. For those that would like to explore further, a short trail continues above the falls where there are more opportunities to wade and swim in smaller, but equally beautiful pools and polished boulders along the river. Remember, because this trail is located in the National Park, you'll need to leave your dogs at home.
Bell Meadow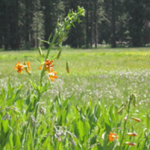 This large meadow is abundant with wildflowers in the early summer, and it can still have colorful displays into August. Bell Meadow also has one of the most beautiful aspen groves in the Stanislaus National Forest, which is especially spectacular in mid-autumn as the leaves change to yellow and gold. Not only is this meadow a beautiful place to enjoy just for itself, it also serves as one of the easiest access portals into the Emigrant Wilderness. Extending out from the trailhead are miles of trail for you to enjoy. You can obtain a map of the Emigrant Wilderness before you visit (available from Mi Wok, Summit, or Groveland Ranger District offices) if you want to plan a day hike to one of the many alpine lakes that lie within the Wilderness.
Driving to the Bell Meadow trailhead takes about 40 minutes from Twain Harte (you take the Crabtree Road off of Highway 108), and the last half-mile of road gets a little rough but the road is drivable for most sedans and vans as long as you take it slow on the rough section.
Sword Lake/Lost Lake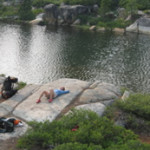 We selected these two spectacular lakes for those who enjoy a good day hike, with a destination that has some of the best alpine lake swimming in the region. These neighboring lakes lie within the Carson Iceberg Wilderness. The trailhead is accessed off of a winding Forest Service dirt road that spurs off the Clark Fork paved route from Highway 108. The hike can be somewhat "busy" on a peak summer recreation weekend. You could run into as many as 15-20 people, but compare that to the hundreds you'd see any day of the week in Yosemite! The hiking terrain is moderate. Expect to climb a few hills, but the trail is well maintained, and it should only take about 1.5 to 2 hours at most each way. Once you arrive at the lakes, you'll know the trip was worth the effort. The lakes are fairly long and deep, and you really get that backcountry feeling when you are there.
Drive time to the trailhead takes 70 - 80 minutes from Twain Harte. The last 20 minutes of driving on the dirt road will be pretty bumpy, but the road is wide open and navigable in any car.
Highland Lakes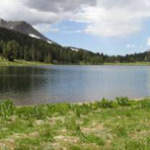 For those who want to access the outdoors from the Highway 4 corridor, we think that if you haven't been to Highland Lakes yet, it is time to visit. These high-elevation lakes can be accessed by any vehicle (even an RV). They have excellent rustic campgrounds, wildflowers blooming as late as September, good fishing (brook and rainbow trout), and miles of wilderness trails for day hiking or more. The lakes and the land surrounding them are gorgeous for photography, picnics, or hillside scrambles. We highly recommend this area as a great spot to spend your day or weekend, or as a starting point into an adventure in the Carson Iceberg Wilderness.
Drive time is just about 2 hours from Sonora, and 1.5 hours from Murphys.
Fall and spring destinations
During spring and fall there are smaller crowds, and spring wildflowers or the turning leaves of fall provide a colorful landscape to explore. Check out these destinations in the shoulder seasons to take advantage of milder weather and fewer people.
Dragoon Gulch - Sonora
New Melones Hiking & Mountain Biking Trails & Wildlife Viewing
Table Mountain
Red Hills Area of Critical Environmental Concern
Natural Bridges
Beautiful places to explore in the snow
If you are seeking a winter wonderland adventure, visit one of these scenic destinations to ski or snowshoe. Don't let the cold and short days keep you from experiencing the beauty of the snowy northern Yosemite region in the winter.
Cross-country Ski Near Pinecrest
Cross-country Skiing On Herring Creek Road
Cross-country Ski or Snowshoe Sugar Pine Railroad Grade by Lyons Reservoir
Calaveras Big Trees State Park
Bear Valley Offers a Host of Options
Ideas for family trips in the summer
Take your family on a summertime adventure at one of these scenic destinations that offer more family-friendly facilities like a visitors center and opportunities such as guided naturalist hikes.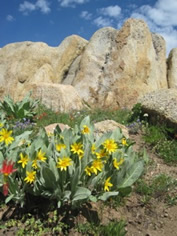 Pinecrest Lake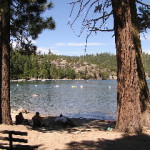 Pinecrest Lake is a beautiful and popular recreational destination. The lake is nestled within the forest amidst a picturesque mountain peak, but also has stores, bathrooms, and campgrounds available. Activities include:
Camping: There are 2 major campgrounds - Pinecrest Campground and Meadow view Campground.
Day Use Sites: There are day use sites for picnicking, boat launching, and swimming at the lake.
Interpretive Programs: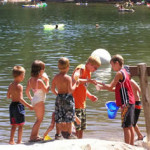 The Forest Service offers interpretative programs throughout the summer.
Fishing: Fishing is allowed in the lake with a fishing license. This can be purchased at the nearby Pinecrest commercial center.
Hiking: There is a trail that circumferences the entire lake. By hiking to the far (east) side of the Lake and then heading upstream along the South Fork Stanislaus River, you can access the wild Waterhouse roadless area, Cleo's Bath (a scenic pool), and impressive vistas of the granite basin above the Lake. The Waterhouse roadless area is one of a number of wild, rugged areas that are not within official wilderness, but which are totally wild and pristine.
Yosemite National Park
Yosemite National Park is one of the most spectacular areas in the Sierra Nevada. Full of beautiful forests, rushing rivers, waterfalls, picturesque granite peaks, meadows, wildflowers, and so much more, it provides a great opportunity to experience nature up close. Some activities include: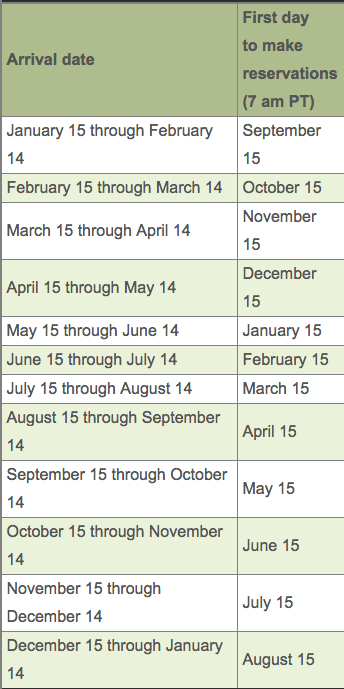 Camping: There are several campgrounds within the park including Lower Pines, North Pines, Upper Pines, and Tuolumne Meadows. Click for more information about reserving campsites . Reservations can be made 5 months in advance; if you hope to camp in the peak season, keep in mind that summer reservations are taken within the first few minutes of availability. Some (not all) campgrounds have first-come first-served campsites available as well. 
Places to Visit: Some places to visit within the park include Yosemite Valley, Mariposa Grove of Giant Sequoias, Glacier Point, Hetch Hetchy, and Tuolumne Meadows.
Things to See:
Waterfalls There are numerous waterfalls to visit within the park including Yosemite Falls and Bridalveil Falls.
Rock Formations: Yosemite contains some amazing rock formations, such as El Capitan and Half Dome.
Giant Sequoias: Some of the largest trees in the world, Giant Sequoias, also grow in the park.
Vista Points: Popular vista points include Glacier Point, Olmsted Point, and the Tunnel View.
Museums and Historic Buildings: Buildings to visit include the Yosemite Valley Visitor Center, the Nature Center at Happy Isles, and the Ahwahnee National Historic Lodge.
Rivers and Lakes: Popular to see are Tenaya Lake, Mirror Lake, and Hetch Hetchy Reservoir. Rivers and seasonal creeks flow throughout the park.
Swimming: Swimming is permitted in all areas of the park except at the Hetch Hetchy Reservoir and above waterfalls. One popular place for swimming is the Merced River within the Yosemite Valley. Remember to use special caution any time flows are high or the water is cold.
Calaveras Big Trees State Park
Big Trees State Park contains many spectacular Giant Sequoia trees, the largest tree species in the world. Many have a height of 250 to 300 feet and a diameter as wide as 30 feet! Some activities within the park include:
Camping: There are 2 main campgrounds at the North Grove and Oak Hollow, 4 miles in from the main entrance. They also offer 4 environmental walk-in sites with fewer amenities.
Hiking: There are three main hiking trails within the park that provide great views of the "Big Trees" and interesting information on local plants and wildlife. These include the North Grove trail (1.5 miles), South Grove trail (3.5 - 5 miles), and the Bradley Grove trail (2.5 miles).
Swimming: Swimming opportunities are available in the nearby Stanislaus River.
Interpretive Programs: Interpretative programs are often put on by the park in the summer months to teach visitors about topics such as natural history and the environment.
Fishing: Fishing is also allowed within the Stanislaus River. A fishing license can be obtained within the park.
For more information, visit the State Park's website.
Check out this map of CSERC's Recreation Hotspots