There are many beautiful destinations in the Central Sierra-Northern Yosemite region, and some of the best are off the beaten path. CSERC has created a list of more than 20 scenic destinations to get you started - including remote and quiet spots as well as popular destinations for local residents.
      Most of our recommended destinations are best enjoyed if you visit with the right gear and with valuable information about risks, options, and challenges. We encourage you to prepare carefully – bring the appropriate hiking equipment, water, maps, etc. before heading out in order to have a safe and enjoyable time.
      We recommend that anyone driving in the Stanislaus Forest buy a copy of the Stanislaus Forest Road Map from any ranger district office. It can also be helpful to check with the district office regarding road conditions as they can change from year to year or due to weather effects.
 Find the beautiful places you want to visit
 Click on any of the places listed below for a drop down description of the destination.

 How to get there: Scroll down to our customized Google Map.  Let us know if you have any questions about directions!
Scenic summer destinations
Summer is a wonderful time to explore some of the most scenic places in the Northern Yosemite and Central Sierra region. We have listed some of the most picturesque places below for you to discover. We will continue to share as we discover more.
Preston Falls
Carlon Falls
Bell Meadow
Sword Lake/Lost Lake
Highland Lakes
Family-oriented summer trips
Take your family on a summertime adventure at one of these scenic destinations that offer more family-friendly facilities like a visitors center and opportunities such as guided naturalist hikes.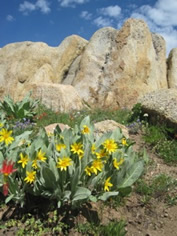 Pinecrest Lake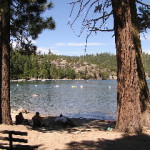 Pinecrest Lake is a beautiful and popular recreational destination. The lake is nestled within the forest amidst a picturesque mountain peak, but also has stores, bathrooms, and campgrounds available. Activities include:
Camping: There are 2 major campgrounds - Pinecrest Campground and Meadow view Campground.
Day Use Sites: There are day use sites for picnicking, boat launching, and swimming at the lake.
Interpretive Programs: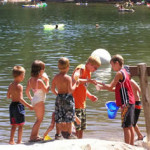 The Forest Service offers interpretative programs throughout the summer.
Fishing: Fishing is allowed in the lake with a fishing license. This can be purchased at the nearby Pinecrest commercial center.
Hiking: There is a trail that circumnavigates the entire lake. By hiking to the far (east) side of the Lake and then heading upstream along the South Fork Stanislaus River, you can access the wild Waterhouse roadless area, Cleo's Bath (a scenic pool), and impressive vistas of the granite basin above the Lake. The Waterhouse roadless area is one of a number of wild, rugged areas that are not within official wilderness, but which are totally wild and pristine.
Yosemite National Park
Yosemite National Park is one of the most spectacular areas in the Sierra Nevada. Full of beautiful forests, rushing rivers, waterfalls, picturesque granite peaks, meadows, wildflowers, and so much more, it provides a great opportunity to experience nature up close. Some activities include: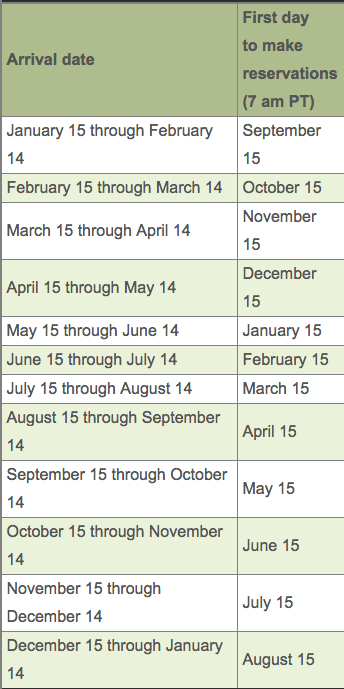 Camping: There are several campgrounds within the park including Lower Pines, North Pines, Upper Pines, and Tuolumne Meadows. Click for more information about reserving campsites . Reservations can be made 5 months in advance; if you hope to camp in the peak season, keep in mind that summer reservations are taken within the first few minutes of availability. Some (not all) campgrounds have first-come first-served campsites available as well. 
Places to Visit: Some places to visit within the park include Yosemite Valley, Mariposa Grove of Giant Sequoias, Glacier Point, Hetch Hetchy, and Tuolumne Meadows.
Things to See:
Waterfalls There are numerous waterfalls to visit within the park including Yosemite Falls and Bridalveil Falls.
Rock Formations: Yosemite contains some amazing rock formations, such as El Capitan and Half Dome.
Giant Sequoias: Some of the largest trees in the world, Giant Sequoias, also grow in the park.
Vista Points: Popular vista points include Glacier Point, Olmsted Point, and the Tunnel View.
Museums and Historic Buildings: Buildings to visit include the Yosemite Valley Visitor Center, the Nature Center at Happy Isles, and the Ahwahnee National Historic Lodge.
Rivers and Lakes: Popular to see are Tenaya Lake, Mirror Lake, and Hetch Hetchy Reservoir. Rivers and seasonal creeks flow throughout the park.
Swimming: Swimming is permitted in all areas of the park except at the Hetch Hetchy Reservoir and above waterfalls. One popular place for swimming is the Merced River within the Yosemite Valley. Remember to use special caution any time flows are high or the water is cold.
Calaveras Big Trees State Park
Big Trees State Park contains many spectacular Giant Sequoia trees, the largest tree species in the world. Many have a height of 250 to 300 feet and a diameter as wide as 30 feet! Some activities within the park include:
Camping: There are 2 main campgrounds at the North Grove and Oak Hollow, 4 miles in from the main entrance. They also offer 4 environmental walk-in sites with fewer amenities.
Hiking: There are three main hiking trails within the park that provide great views of the "Big Trees" and interesting information on local plants and wildlife. These include the North Grove trail (1.5 miles), South Grove trail (3.5 - 5 miles), and the Bradley Grove trail (2.5 miles).
Swimming: Swimming opportunities are available in the nearby Stanislaus River.
Interpretive Programs: Interpretative programs are often put on by the park in the summer months to teach visitors about topics such as natural history and the environment.
Fishing: Fishing is also allowed within the Stanislaus River. A fishing license can be obtained within the park.
For more information, visit the State Park's website.
Fall and spring destinations
During spring and fall there are smaller crowds at popular destinations, and spring wildflowers or the turning leaves of fall provide a colorful landscape to explore. Check out these trails in the shoulder seasons to take advantage of milder weather and fewer people.
Dragoon Gulch - Sonora
New Melones Hiking & Mountain Biking Trails & Wildlife Viewing
Table Mountain
Red Hills Area of Critical Environmental Concern
Natural Bridges
Places to explore in the snow
If you are seeking a winter wonderland adventure, visit one of these scenic destinations to ski or snowshoe. Don't let the cold and short days keep you from experiencing the beauty of the snowy northern Yosemite region in the winter.
Cross-country Ski Near Pinecrest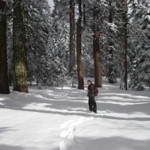 There are a number of trails and roads designated for cross-country skiing around Dodge Ridge. Skiing on Crabtree Road from its intersection with Dodge Ridge Road takes you on a 2.5-mile incline up to Aspen Meadow. The views are excellent, and the good news is that it is downhill the whole way back down. Trails for more skilled and adventurous backcountry skiers can be taken off of Crabtree Road leading to steeper slopes and views of the North Fork and Clavey River drainages.
The Gooseberry Road trail offers moderate to advanced opportunities for both cross-country skiing and snowshoeing with varying terrain that can be accessed just beyond the Dodge Ridge parking area on the loop road. For those just wanting a beginning opportunity, a short snowshoe or ski excursion up into the forest is easy at this location.
Cross-country ski trail maps for the Dodge Ridge area are available at the Forest Service Summit Ranger Station and at the Dodge Ridge ski center. The maps provide more detailed information as to the skill level required for various routes.
Cross-country Skiing On Herring Creek Road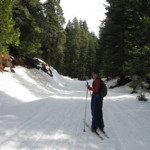 This Forest Service road is located just two miles east of Strawberry off Highway 108 and receives far less visitors than the Dodge Ridge area. Its gradual incline is ideal for moderate level cross-country skiing. For those wanting to head out a few miles with a destination in mind and a map in hand, you can ski out to the Herring Creek bridge and old growth forest groves on the south side.
Cross-country Ski or Snowshoe Sugar Pine Railroad Grade by Lyons Reservoir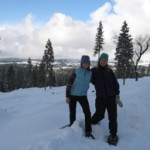 At least a few times in most winters there is enough snow for cross-country skiing and snowshoeing at lower elevation destinations. The Lyons Reservoir Road is located just west of Long Barn on Highway 108 past Sierra Village. There is a large pullout for parking on the north side of the road. The road eventually leads to Lyons Reservoir, which is about a 2-mile trek downhill from the highway. If you've planned ahead, from the reservoir, you can link up with the Sugar Pine Railroad grade at the dam and ski the level 5 miles back towards the South Fork-Confidence Road trailhead.
Calaveras Big Trees State Park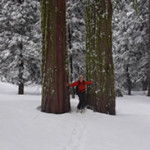 Along the Highway 4 corridor, Calaveras Big Trees State Park offers exceptional beauty and chance to see wildlife in a moderate elevation park setting. Parking at the main lot and taking the "closed for the winter" main road out into the Park is the easiest way to explore on either cross-country skis or snowshoes. The west-side entrance to the Park can also be a good option for those who prefer fewer people and a steeper incline.
Bear Valley Offers a Host of Options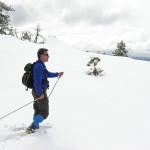 High up the mountain highway, the Bear Valley area is one of the most spectacular scenic destinations in the region for winter recreation. Bear Valley Cross Country and Mountain Adventures Seminars are two local businesses that provide a range of exciting skiing, snowboard, and snowshoe adventures with excellent guides, trails, etc. CSERC recommends both businesses.
For those only wanting a short outing, the Spicer Road area has a snow-park and plenty of areas for snowplay, skiing, or snowshoes. Go online to learn about the Snow-Park regulations if you plan to use that facility.
Another excellent option in the Bear Valley area is Big Meadow, on the south side of the highway. When Big Trees Park and other low elevation areas run short of snow, Big Meadow is likely to still have plenty for those seeking scenic adventures in a blanket of white.
Check out this map of CSERC's Recreation Hotspots