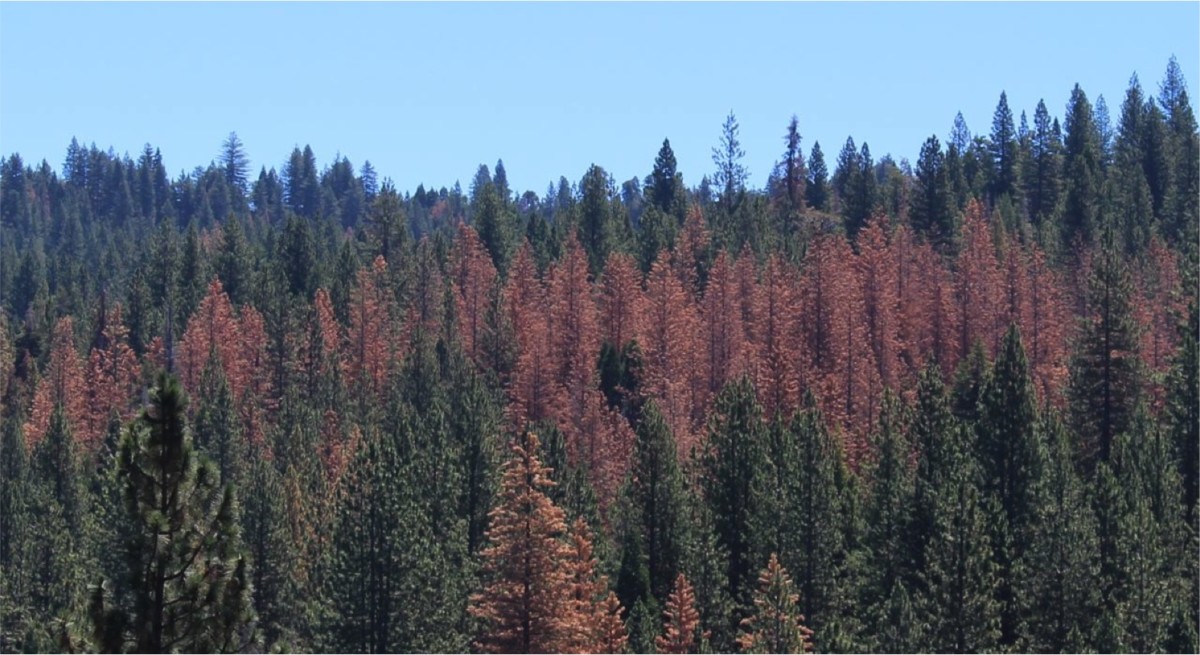 ACCURATE INFORMATION NEEDED TO COUNTER MISLEADING POLITICAL CLAIMS ABOUT FORESTS, WILDFIRE, AND CLIMATE
Director's Report - November 2017
by CSERC's executive director, John Buckley
Recently Congressman Tom McClintock delivered a speech in Congress concerning forests.  He made a number of generalized statements that imply certain "facts" that are simply not true.  His key theme was that environmental laws "are literally killing our forests."  A second key theme was that tying forest problems to climate change doesn't pass the smell test.  And a third key claim was that private forests can easily be seen as properly managed and are green, healthy, and thriving in direct contrast to "neglected" federal lands.  All the above are false.
An additional incorrect claim made by the Congressman included: "Healthy trees can naturally resist bark beetles" -  He made this statement as part of his claim that federal forests cannot be managed properly due to the laws now in place.
Whether a politician is a Democrat, a Republican, or an Independent, fact-checking claims is important if citizens are going to understand whether or not to believe the politician.
McClintock:  Environmental laws "are literally killing our forests."  -  MISINFORMATION
The Congressman blames the National Environmental Policy Act and the Endangered Species Act for being responsible for less logging on national forest lands than occurred decades ago.  He asserts that the drop in logging is directly connected to the increase in forest fires.
In reality, up through the early 1990's, despite NEPA and the Endangered Species Act, the Forest Service was cutting huge quantities of trees – primarily through clearcutting and similar even-age logging that removed all large fire-resistant trees.  Clearcut areas were planted with tightly packed tree plantations.  Areas that were selectively high-graded through logging of their biggest, most profitable trees were left unmanaged.  The small and some mid-size trees left behind all grew densely into thickets.
Even as far back as 1987, wildfires in the Stanislaus Forest combined to burn almost 150,000 acres of land – much of it at high severity.  This was during the peak of logging in the Sierra Nevada.  Such intense logging did nothing to prevent the second largest wildfire to ever burn in the local region.  Logging done to maximize wood production does not result in fire safe forests.
The combination of clearcuts (that transformed the forest into up to 40-acre blocks of tree plantations) along with the high-graded logged forest stands being allowed to become dense thickets of smaller trees all ended up creating a massive fire risk.  THIS WAS NOT DUE TO ENVIRONMENTAL LAWS.  IT WAS A RESULT OF THE FOREST SERVICE RESPONDING TO PRESSURE FROM THE TIMBER INDUSTRY TO MAXIMIZE HIGH LEVELS OF LOGGING.
In the 1990's environmental laws did begin to curtail clearcuts and the cutting of the remaining large, fire-resistant trees.  But for economic as well as social reasons, Forest Service staffing was reduced so that when the Forest Service attempted to shift to aggressively thinning the forests to protect at-risk wildlife, the amount of acres that were "treated" ended up being far less than desired by the Forest Service..
Reduced Forest Service staffing, reduced interest by the timber industry in smaller diameter trees, and inadequate budgets FROM CONGRESS for the Forest Service all resulted in less forest treatments to thin forest stands and reduce the risk of severe wildfires.  Thus, more and more forest areas became overgrown tree plantations or overgrown second-growth forest stands.
IN CONGRESSMAN MCCLINTOCK'S DISTRICT IN THE STANISLAUS NATIONAL FOREST, FOR MORE THAN 15 YEARS LOCAL ENVIRONMENTAL GROUPS HAVE SUPPORTED MORE THINNING LOGGING TO REDUCE OVERGROWN FORESTS.  SUCH PROJECTS HAVEN'T BEEN STOPPED BY THE ENDANGERED SPECIES ACT OR BY ENVIRONMENTAL LAWS.  THE FOREST SERVICE'S INADEQUATE STAFFING AND LOW BUDGETS HAVE LIMITED THE ABILITY FOR THE STANISLAUS FOREST TO PREPARE PROJECTS, ADMINISTER PROJECTS, AND GET THE FOREST LOGGED SELECTIVELY.
There are many causes for why local forests have generally gotten more and more unhealthy.  But the Congressman falsely attempts to pick environmental laws as the culprit.
McClintock:  Letting fires burn will only result in damaging wildfires
The Congressman attacked proposals to allow more use of fire to reduce the risk of devastating wildfires.  The reality is that fuels in forests will always burn at some point – either through low-intensity prescribed burn projects under safe conditions or -- at the other end of the spectrum -- though blazing high-severity wildfires that kill people and destroy communities.
Fire historically burned hundreds of thousands of acres of Sierra Nevada forests every year, creating open, park-like forests with scattered individual trees, openings, and clumps of trees.  Despite unchecked wildfires, the historic forests of the region were amazing in their beauty, health, and resilience to wildfires and drought.  As scientists have proven through studies, such frequently burned forest areas were highly resistant to being severely burned.
The Congressman pointed to devastating fires that have been the focus of the media.  Exceptional fire conditions such as the Santa Rosa – Napa firestorms have nothing to do with national forest management.  Literally the wind-blown raging fires in that region burned cement buildings, K-Marts and other industrial structures.  Nothing in their path escaped firestorm devastation.  But for the vast majority of wildfires, having thinned, prescribed burned forest areas will make areas highly safe from damaging wildfire effects.
McClintock:  Climate change theories don't pass the smell test, and clearly climate change isn't the cause of destructive forest fires and insects
Depending on which sources you rely on, either most or nearly all of the last 15 years have been the warmest recorded years globally ever documented.  Science studies prove that fire seasons have expanded over the long summer-fall season by up to 7 weeks longer each year for forests across the West.  That alone makes a huge difference for everything from drier forest fuels to more days with fire risk.  The recent multi-year drought affecting the Sierra Nevada was documented as off the scale compared to previous droughts, and the spread of bark beetles due to the stressed trees resulted in the highest level of bark beetle damage in the Sierra Nevada ever recorded.
Accordingly, it is blindly political for the Congressman to scorn scientists who point to climate change and warming conditions as contributing to the severity of Western wildfires.  A significant shift to hotter and drier weather conditions for the Sierra Nevada is fact, not conjecture.  The accompanying die-off of over 100 million trees from drought and bark beetles occurred where trees were widely spaced… where trees were isolated, where trees were in dense thickets, and where trees were in industrial timberlands.  Healthy trees as well as stressed trees died from bark beetles whenever numbers of beetles were excessive.
THERE IS LITERALLY NO FACTUAL TRUTH TO THE CONGRESSMAN'S CLAIMS THAT PRIVATE FORESTS ARE GREEN AND THRIVING WHILE PUBLIC FORESTS ARE NEGLECTED AND SUFFERING.  BARK BEETLES HIT PRIVATE AND PUBLIC FOREST LANDS ACROSS MIDDLE AND LOWER ELEVATIONS OF THE SIERRA NEVADA EQUALLY HARD.  Private lumber companies simply had the funding, staffing, and capacity to salvage log their lands more rapidly than the Forest Service was able to do.  Many of the most at-risk forest lands in the Sierra Nevada are the blocks of even-age tree plantations that are so at risk for windblown crown fires.
The truth is that drought, climate change, and a cumulative combination of human actions over the past century have all added up to cause often-unhealthy forest conditions.
A politician can attempt to misinform the public and take advantage of media coverage concerning wind-blown firestorms in oak woodlands and brushlands far from national forest lands, or that same politician could instead admit that inadequate budget funding by Congress for the Forest Service is a continuing major barrier to getting consensus-based forest projects funded so that all political interests can collaboratively support real solutions.
Issues tied to forests are not simplistic.  But moving past rhetoric to reach across party lines to attempt to create balanced solutions could be a step in the right direction.