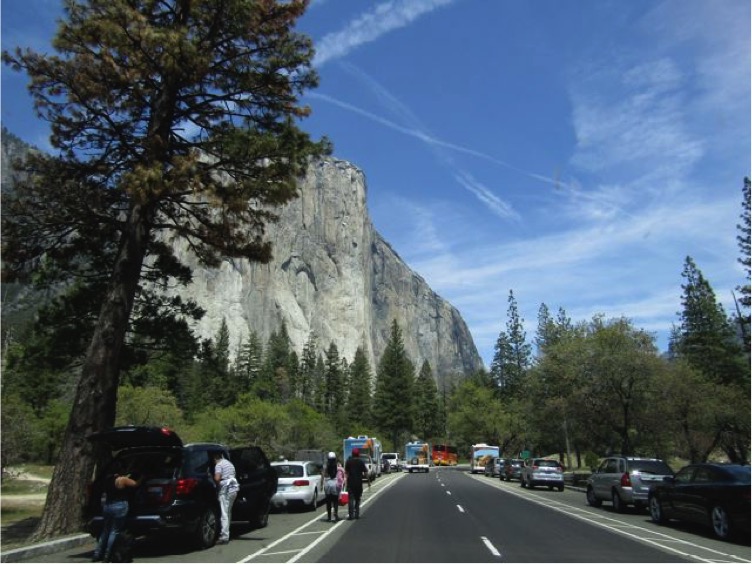 Yosemite- a global treasure being loved to death
Director's Report - June 2017
by CSERC's executive director, John Buckley
         The prime reason that CSERC exists is our mission -- working to be a strong, effective, and persistent defender of the environment across the vast Northern Yosemite region.
         We mention "Yosemite" as a core descriptor for our region because people all over America and in many other places in the world know about Yosemite National Park.
         Yosemite, and in particular, iconic Yosemite Valley, are often considered prime examples of natural wonders that have been spared from human impacts and preserved in stunning condition as a legacy for future generations.
         Thus it may be a surprise to some to learn that the current status of this world-renowned natural park and its spectacular waterfall valley is far from being well protected. The true focus is on maximizing the recreational opportunities and commercial operations tied to massive numbers of visitors entering the Park and accessing iconic "must see" destinations in Yosemite Valley.
         Anyone who has ever spent time in Yosemite Valley knows better than words can explain that the cliffs, waterfalls, river corridor, meadows, forest glades, and spectacular scenic skyline all combine to inspire, thrill, and delight those who experience its magical setting.
         Yet anyone who fairly and truthfully experiences Yosemite Valley during crowded spring-summer season conditions knows that the Valley experience and the ecological health of Yosemite Valley's environment are both being systematically degraded and diminished. It is as if one of Europe's most iconic cathedrals of historic, spiritual significance was opened up to every imaginable affront to harmony, peace, and the religious purpose of the cathedral. In Yosemite Valley, the unrestricted masses of visitors inarguably result in traffic jams, overcrowded destinations, impacts to air quality, impacts to wildlife, impacts to riparian vegetation along the river, and the near elimination of the natural experience that Yosemite Valley supposedly represents.
         Yosemite Valley is not just being "loved to death" by those who care deeply about its beauty and its ecological uniqueness. Stresses on Yosemite Valley and its environment are being compounded by a blitz of commercial business operations that crowd the Valley's roads with too many buses and vans and that entice too many local and international visitors to all arrive without consideration for the impact of their visit along with visits by tens of thousands of other visitors – day after day during the prime tourist season.
         A Park superintendent who is no longer with the Park told me openly that there are good arguments for the Park Service to phase in a reservation system to markedly reduce congestion and impacts to Yosemite Valley. At one point Park planners openly discussed having a strict limit reservation system (perhaps similar to what is in place for climbing Half Dome). It could have a majority of Yosemite Valley day visit passes available through a reservation system with some limited percentage still available on a first-come, first-served basis as well. But the Park superintended shrugged at my insistence that Yosemite Valley needed such restrictions NOW, not far off in the future. He simply underscored that unless Yosemite Gateway business interests and Yosemite advocacy organizations broadly cry out for reservations with a strict capacity limit, then the strong political pressure of local county governments and local members of Congress would guarantee that the Park Service would reject such a plan. Given the political climate, the Park isn't even publicly discussing such a solution to Park crowding.
         A few years ago, more than 3 million people crowded into Yosemite Park. Two years ago, over 4 million visitors came. Last year, more than 5 million people visited Yosemite -- the vast majority of them all crowding into tiny Yosemite Valley. This current year appears to be the most crowded, congested, and negative yet in terms of affecting this precious place that is our legacy to future generations. Yosemite is on a path to becoming an amusement park-type experience, where those who accept crowds and congestion are the ones who end up coming.
         CSERC supports the Park Service starting now – in the summer of 2017 – to engage Yosemite-focused businesses, regional communities, area residents, state interests, and others in a timely collaborative discussion about how to scale back visitor numbers in Yosemite Valley so as to improve the ecological health of this natural cathedral and improve the visitor experience for those who come to this special place.
         In coming months, CSERC will be sharing this message in various venues, hoping to light a spark of concern and caring that can begin the process of scaling back the traffic jams, pollution, crowds, and commercialism so that our public trustees can begin to truly manage this iconic destination with the respect and love that Yosemite Valley deserves.