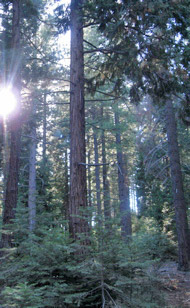 Logging to produce wood products is one major, historic component of managing national forests.
Under the two terms of the Bush Administration, "pro-industry" groups were highly favored with policies and decisions aimed to produce more logging, mining, grazing, and motorized recreation use.
Under the Obama Administration, national forest management shifted to give stronger support to protecting the environment.
The current Administration in Washington, DC has embraced calls for ramping up logging levels and greatly reducing regulations aimed at protecting endangered species or watersheds.
Here in the Stanislaus National Forest, timber sale levels have fluctuated over time. During the economic recession, the demand for wood decreased significantly. As housing has boomed and timber prices have increased over recent years, there is renewed demand for more wood coming off national forest lands. Locally, more than 200 million board feet was logged in the Rim Fire as the Forest Service attempted to remove excess fuel and to also get dead trees to mills before their wood became checked or rotted. Over the past three years, high numbers of conifers have also died from the drought and bark beetles – so the Forest Service has primarily sold dead trees that they removed due to the trees posing safety hazards to roads, homes, campgrounds, and facilities.
CSERC has consistently supported a moderate level of thinning logging projects within the Stanislaus Forest, especially when extra protection is provided for wildlife. Our staff recognizes that frequent wildfires historically kept many areas of the forest open and park-like. Without frequent low-intensity fire, the conifer forests often become choked with thickets of understory trees or become dense thickets of crowded medium and small trees. Not only do those trees compete for limited moisture during dry years, they can serve as ladder fuels that can carry flames into the canopy of mature, over-story trees.
Two local forest collaborative groups focused on the management of Stanislaus Forest lands have openly embraced plans for the Forest Service to do more science-based thinning logging. This is the opposite of clearcuts (which CSERC strongly opposes). By opening up many overgrown forest areas while leaving all of the larger trees for wildlife and scenic values, the Forest Service can provide wood for the American people in an ecological way that actually improves, rather than harms, forest health. Not all areas in the forest should be managed by thinning logging treatments, but applying such projects to the areas with the least environmental constraints can lead to middle ground benefits to the forest environment as well as to the local economy.
More about the environmental issues facing the Stanislaus National Forest
You can read more about Stanislaus Forest issues in general or read about one of the other main concerns here: