Wet winter forces delays and closures of Stanislaus Forest roads
After many years of drought, California got quite the winter this year. From the spectacular wildflower blooms to the rivers overflowing with snowmelt, there have been many positive outcomes from this wonderfully wet winter. Unfortunately, not every outcome has been positive; the network of roads that provides access for thousands of recreational visitors to the Stanislaus Forest each year was heavily impacted by this winter's rains. We will do our best to keep this page current and easy to understand, including maps created by CSERC staff intended to help you understand where closures are and whether or not you can reach your destination of choice! 
Updated on May 31st, 2017.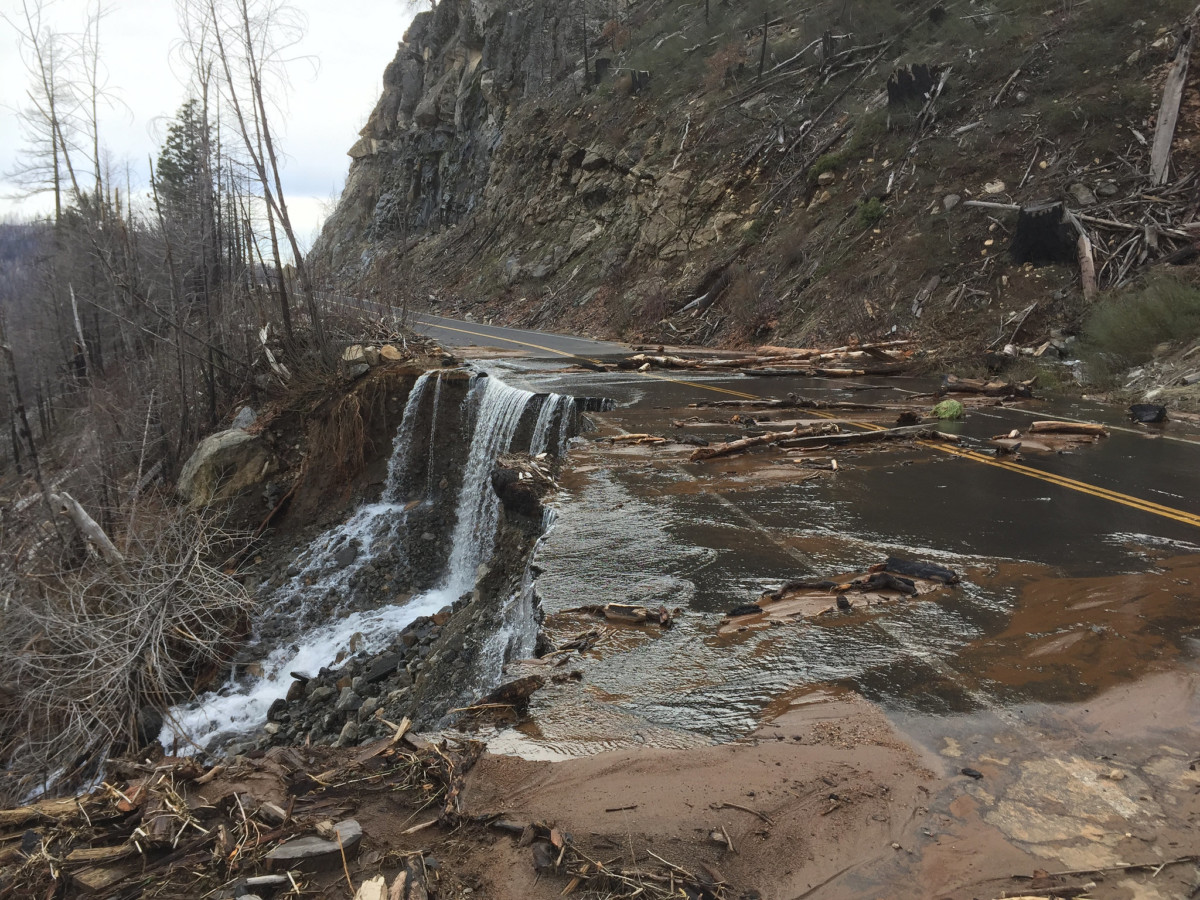 Cottonwood Road & 3N01 Closure
The Mi - Wok Ranger District has determined that road 1N04, also called Cottonwood Road, has been severely damaged to the point that the road will remain closed until at least 2018. Roads passing through steep terrain in the Rim Fire footprint were especially hard hit by the rains due to the minimal canopy cover and little deep rooted vegetation to hold soil in place. The map below shows which stretch of Cottonwood Road is closed. Cottonwood Road is typically accessed out of the town of Tuolumne and connects visitors to Cherry Lake. Despite the closure, visitors can still access River Ranch Campground, but the very popular swimming hole "God's Bath" on the Clavey River, won't be accessible this year, and Cherry Lake will not be accessible from the Tuolumne side this year. Visitors headed east on 3N01 out of Long Barn can access the Clavey, as well as Bourland Meadow.

Summit Ranger District Road Closures & Delays
On top of actual road damage, the increased number of dead trees on the landscape mean more trees have fallen across roads than usual. In addition, large snow drifts further contribute to difficulties opening roads in the higher elevations of the Summit Ranger District. The map below reflects the current road conditions on the Summit District. Roads indicated in purple are roads that the forest has determined are so damaged that they are unlikely to reopen until at least 2018. If you had plans to visit the Beardsley Day Use area, you might reconsider those plans this year. Anyone with ambitions of accessing trailheads off the Herring Creek Road  will need to continue to wait. Herring Creek road is open to the start of the loop, but there is no access to the reservoir, campgrounds or trailheads yet. Eagle Meadow road is open but it may not be easily driveable.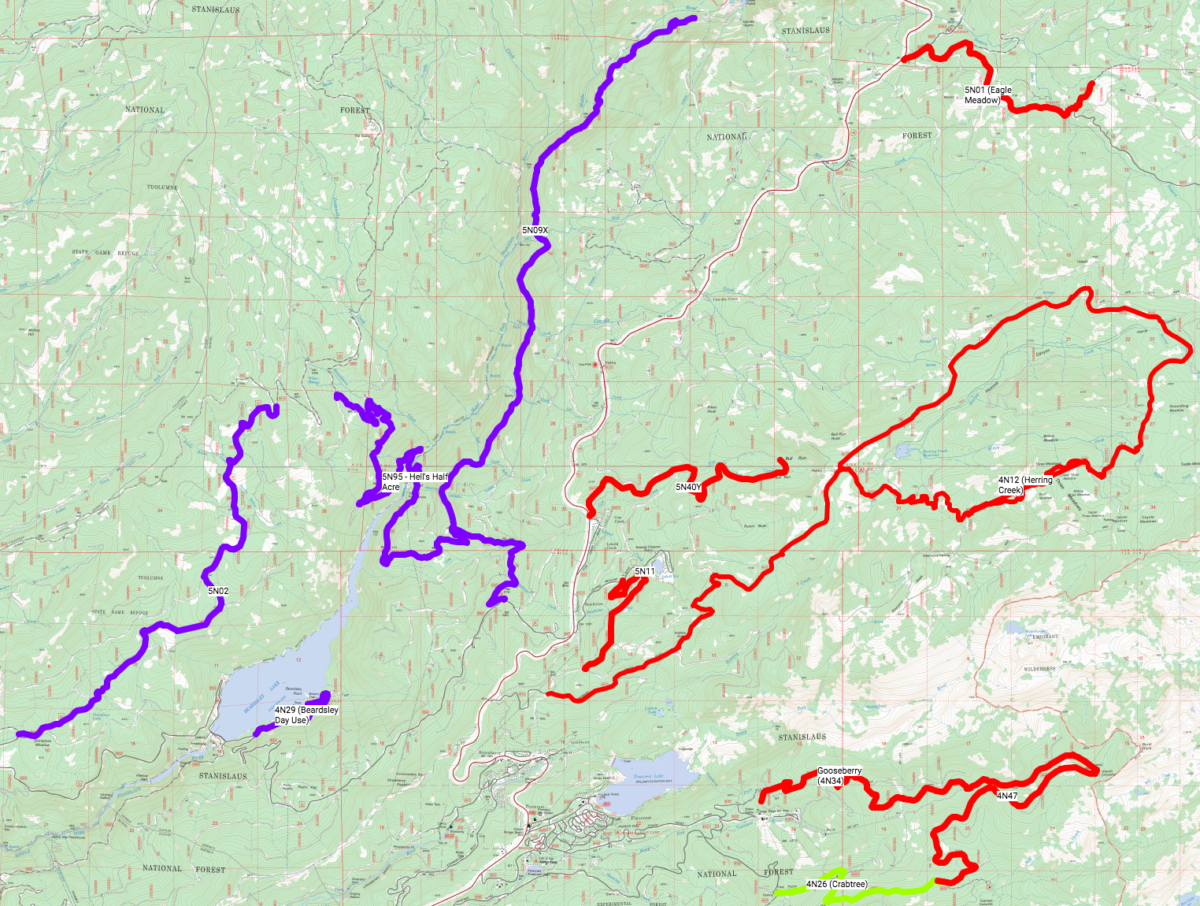 Calaveras Ranger District Road Closures & Delays
There are still some forest roads on the Calaveras District that are not anticipated to open until 2018: Board's Crossing and Candy Rock roads. Spicer road is open !!! You can now access Spicer, Utica and Union Reservoirs! In addition to these major closures, the following is an extensive list of roads that have had the seasonal closure extended from April 15 to June 15th. (Please forgive CSERC staff for not mapping these closures for you!):
05N16X 06N13X 06N45 06N51Y 06N58 06N74Y 06N77 06N78 18EV298 19DC210 FR13172 08N01A 07N91Y 06N79 06N80 06N81 06N81Y 06N82 06N99X 07N02 18EV299 19EV110
19EV111 07N40Y 07N50Y 07N52 07N61Y 07N70 07N78Y 19EV112 FR14843 08N04 07N92Y 07N05Y 07N09 07N12Y 07N13Y 07N16X 07N20 07N21 07N23 18EV300 19EV113
FR13170 20EV100 08N02 08N06 18EV301 06N99Y 07N93 07N89Y 07N79Y 08N07 08N12 08N13 08N14 16DC421 16DC424 17EV485 18EV297 18EV303 FR11079 08N01 07N90Y 07N80Y
Groveland Ranger District Road Closures & Delays
The Groveland District has an extensive list of roads that are closed, primarily among the network of roads south of highway 120.  The maps below show the roads in purple that are not anticipated to reopen until at least 2018. The most notable closure is that of 1N01 in various places, including the section that provides access to the Lower Clavey River and Jawbone Ridge, where the Rim Fire began. The South Fork Tuolumne River, Lumsden Campground area is also inaccessible this year.