If you've ever hiked around Lyons Reservoir, or fished in the PG&E ditch that comes into the old Sierra Pines Golf Course site, you may be interested in staying informed about the Phoenix Hydroelectric FERC Relicensing project. This multi-year planning process will determine how much water will be left to flow in the South Fork Stanislaus River, as well as recreation policies around Lyons Reservoir for the next 40 to 50 years.
           Fortunately, members of the public can comment online or attend planning meetings to discuss questions and concerns about the project. As of the January 16th meeting between PG&E and various stakeholders, a general consensus has been reached regarding study plans to be conducted during the relicensing process. As these studies are conducted, the collected information will be presented at later meetings and used to inform decisions about issues like water storage and minimum flows in the South Fork Stanislaus River.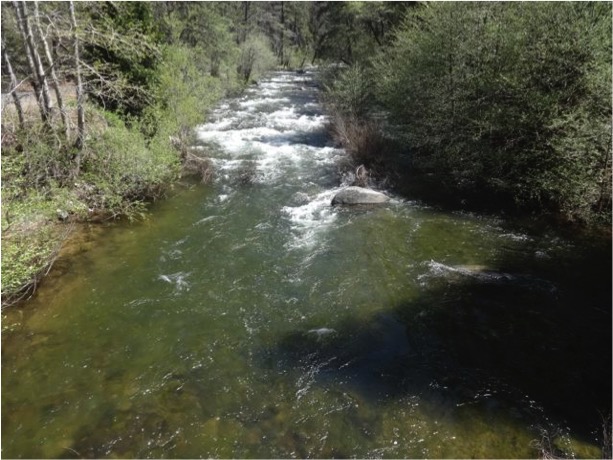 Here are quick summaries of the studies to be implemented. Additional studies may be requested before February 5th, and another meeting will be held February 22 at the TUD building in Sonora to discuss any requested studies and preliminary planning for study implementation.
WQ1: This study will examine water temperatures along the SF Stanislaus River and the Lyons Reservoir, as well as dissolved oxygen, specific conductance, and pH.
WQ2: Hydrologists will survey water quality  by analyzing physical and chemical elements of water samples.
HYD1: This study will compare existing regulated flows in the SF Stanislaus River to  unimpaired flows and evaluate how to avoid requesting adjustments to the mandatory minimum flows during droughts.
AQ1: This study will characterize fish species composition, distribution, and abundance at Lyons Reservoir, SF Stanislaus River, and Powerhouse Creek.
AQ2: Biologists will conduct focused surveys for Foothill Yellow-Legged Frogs and Western Pond Turtles in the SF Stanislaus River and in Lyons Reservoir, while also documenting the frog breeding season and water levels near the survey sites.
AQ3: Using visual surveys and potentially eDNA, biologists will determine distribution, species composition, and relative abundance of mussels in the SF Stanislaus River.
WILD1: Biologists will identify viable habitat and conduct surveys for Willow Flycatchers, Northern Goshawks, Great Grey Owls, California Spotted Owls, and special-status bats.
WILD2: This study will include a focused Bald Eagle nesting survey around Lyons Reservoir, while recording incidental raptor sightings.
BOT1: This survey will look for special plant habitats like springs, special-status plants, and invasive weeds in the project area.
BOT2: In this study, plant species composition, distribution, and age structure will be mapped and documented along the riparian corridor.
GEO1: Hydrologists will analyze stream bed material, large wood, and unimpaired flow as well as general channel conditions.
GEO2: This study examines project-related erosion, including erosion caused by roads and by bank instability in the Main Tuolumne Canal and Powerhouse Creek.
CUL1: These surveys will look at historic-era and prehistoric cultural resources that could be affected by project operations.
CUL2: This study will involve consulting with tribes and determining the presence of tribal resources within the project area. 
LAND1: This survey will assess the condition of roads and trails within the project area, including sediment deposition caused by the roads.
REC1: This study will look at the condition, accessibility, and safety of recreational facilities in the project area, as well as visitor use and demand.
To find more information and keep up-to-date on this project, click here to be directed to the PG&E website.