John Buckley, CSERC Executive Director
CSERC is grateful for a network of environmental partners
On any given day, our CSERC staff may be doing forest and watershed monitoring out in the public and the private forest lands of the region, or we may be participating in a key meeting of water interests who are negotiating how to manage one of our local rivers. We may be attending one of numerous collaborative stakeholder sessions, or maintaining our cameras that are set up in remote areas to get evidence of rare wildlife species.
      Whether we are dealing with water, forest, land planning, or wildlife issues that affect our vast region, almost always we are partnering with supportive groups that share our goals and contribute to the success of environmental efforts.
      This Director's Report could end up being many pages – filled with praise for the forest achievements of Sierra Forest Legacy or the collaborative stakeholder participation by Foothill Conservancy or good work done by other active environmental groups.
      But one local regional organization provides a very clear example of how a citizen activist group can be valuable to the goals and efforts that CSERC aims to achieve.
Many years ago, our Center assisted a number of concerned citizens in Calaveras County to build some basic understanding of the land planning issues that were tied to some of highly negative development projects that were proposed in that county. As that initial core group of dedicated volunteers grew and local attorney Tom Infusino added his land planning expertise, the citizen advocacy group expanded its member base and its level of engagement in Calaveras County matters.
From dealing for years with a completely illegal golf course development project to dealing with major development proposals that violated existing General Plan requirements, the Calaveras Planning Coalition (CPC) and its Community Action Project (CAP) have had highly effective influence on land planning decisions and political discussions in Calaveras County. CSERC has often engaged in those same planning matters, bringing our experience and, at times, the service of excellent legal consultants we have hired to assist with our efforts.
The bottom line has repeatedly been that by partnering together (CSERC with CAP-CPC), we have collectively been more effective. The active participation by CAP activists at Planning Commission and County Board meetings have been supplemented by written comments and periodic testimony at meetings by CSERC staff.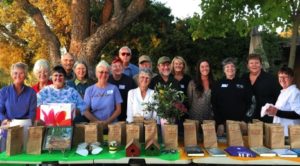 Pictured above is a recent gathering of some of the key members of CPC-CAP. CSERC values them as friends and as great examples of citizen activists who have become extremely well informed and highly effective in standing up for open space, rural values, agriculture, wildlife, and compliance by the County with planning regulations.
Thanks to not only these prime examples of key CSERC partners, but to other important partner groups who also enable CSERC to do more than we could ever on our own.