Back in the spring, CSERC sued the Stanislaus National Forest in frustration after the Forest Service failed to take any corrective actions to halt livestock damage to water quality and meadows on the local national forest. Despite being in the midst of a lawsuit, Stanislaus Forest staff still continued to allow highly unacceptable levels of grazing damage to wetland areas and meadows. CSERC field monitoring located many examples of violations of the agency's own regulations.
WETLAND HABITAT = POCKED, CHISELED, AND OVERGRAZED
      When CSERC staff first observed the livestock damage and overgrazing of vegetation at one large complex of seeps and springs, it was a shock even to our staff. We have come to expect that each summer season, cattle will end up significantly damaging stream banks, riparian habitat, and willows that may grow along wet meadow edges. But the extent of degradation at the wet meadow springs area shown below set a new "low" for Forest Service management. Every patch of wetland and each and every spring flowing out of the hillside was pocked, chiseled, and trampled.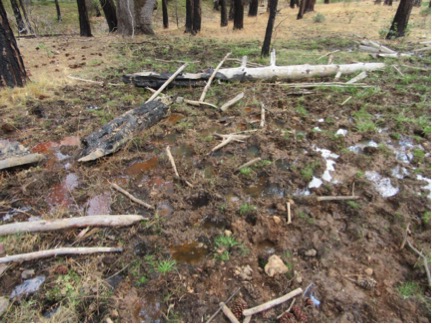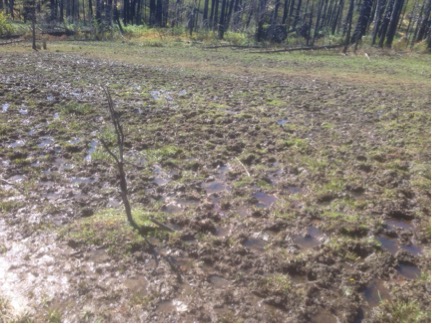 MEADOWS WERE ALSO OVERGRAZED
      In just one general area of the local national forest, CSERC staff located five separate meadows that were overgrazed with pocked and damaged stream banks. When we reported these and convinced Forest Service staff to visit the sites to see for themselves, we heard no apologies nor even agreement that the heavily grazed meadows needed better management by the livestock permittees who manage their cattle. The meadows shown in the video and  photos below are representative of scattered other overgrazed meadows that can be found every year within the Stanislaus National Forest.