Back in 1990, John (CSERC's executive director) took a slide program to an elementary school in Modesto to teach students about forests. That day he presented to two classes.
On November 21st, 27 years later, John presented two assemblies at Creekside Elementary School in Stockton. The second assembly pushed CSERC's total number of participants for talks and slide shows past 150,000 participants.   We think that is worth celebrating! 
      Here at CSERC, we see our slide shows as one important way to plant seeds of awareness that will hopefully grow in the young people who view our programs. WE THINK THAT PLANTING 150,000 SEEDS OF AWARENESS IS QUITE AN ACCOMPLISHMENT.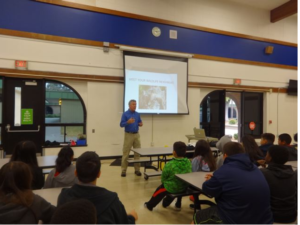 Looking back over thousands of slide presentations, John explains, "Most kids in urbanized areas don't have a chance to see deer in their yard or to enjoy woodpeckers or salamanders or pond turtles or foxes in their neighborhood. They may not experience free-flowing streams or rivers. Many have never visited Yosemite Park or a national forest. CSERC's slide show programs bring glimpses of wildlife and forests to kids who will be stewards of our natural resources in the future. We focus especially on how important and precious water is – and how to conserve it and use it wisely."
The vast majority of the thousands of slide shows given by CSERC's staff over the past 27 years have been presented at schools across a broad area stretching from Patterson and Turlock through Ceres and Modesto on north through Stockton and Lodi, as well as across the foothills of Tuolumne and Calaveras counties.
      "Teachers often tell us that our programs make nature come alive for kids who may otherwise mostly focus on video games, social networking, television, and a digital world. Our slide shows aim to help kids become familiar with wildlife and forests, or with streams and rivers. By learning about nature, they'll begin to relate to the environment and begin to care. With wildlife in particular, kids quickly show interest in animals they might see right in their neighborhood or close to their community," Buckley shared.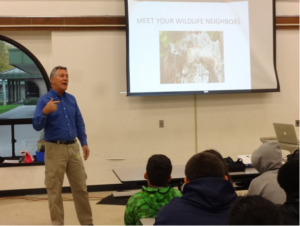 "Sometimes we joke that it would be nice to have a little helicopter to shorten the trip from our mountain office to schools at distant locations in Lodi or Turlock. But we carefully plan to ensure that we make effective use of our time because we do travel a long ways for most programs in the Central Valley. Over the years there have been many, many early drives down from the mountains to start early at schools up to two hours away."
      OUR STAFF KNOWS THAT A KEY REASON THAT CSERC HAS BEEN ABLE TO SUCCESSFULLY REACH 150,000 VIEWERS HAS BEEN THE GENEROUS SUPPORT FROM OUR MEMBERS AND FROM KEY FOUNDATIONS.
      THANK YOU TO EACH OF YOU WHO HAVE CONTRIBUTED TO OUR EFFORTS TO MAKE A DIFFERENCE! It's been a team effort!