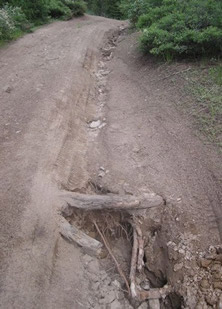 Water resources on public lands face many threats; National forests are mandated to be lands "of many uses", unlike a National Park. These many uses have many impacts to water resources. Every new road and every new timber sale in the local mountains results in some increased level of sediment washing into streams and rivers.
Road construction is the single greatest impact to watersheds since new roads remove stabilizing vegetation, harden surfaces, increasing runoff, and diverting water out of established channels where erosion increases dramatically; bulldozing and  skidding logs during timber operations pose similar risks; livestock grazing degrades streambanks, and increases erosion through hoof action and removal of vegetation; herbicides themselves can contaminate water, and once they've killed vegetation there is little left to hold soil in place;  recreational overuse leading to braiding trails and poorly placed trails can add to the cumulative problem.
When is a watershed at risk?
There is great controversy over what level of these uses should be allowed, especially in riparian areas and other sensitive habitats that are important for wildlife species. While national forests have protective measures called "best management practices" or BMP's, their enforcement and effectiveness are highly questionable based on CSERC's watchdog monitoring in the absence of "mandatory" agency monitoring.
CSERC works to gain wider protective buffers for streams affected by national forest projects. We are consistently opposed to any further new road construction on public lands - especially on steep slopes where the potential for erosion is high. We focus monitoring on riparian, wetland and meadow ecosystems, as well as poorly maintained roads that are contributing high levels of sediment and document impacts with photographs.
Before Grazing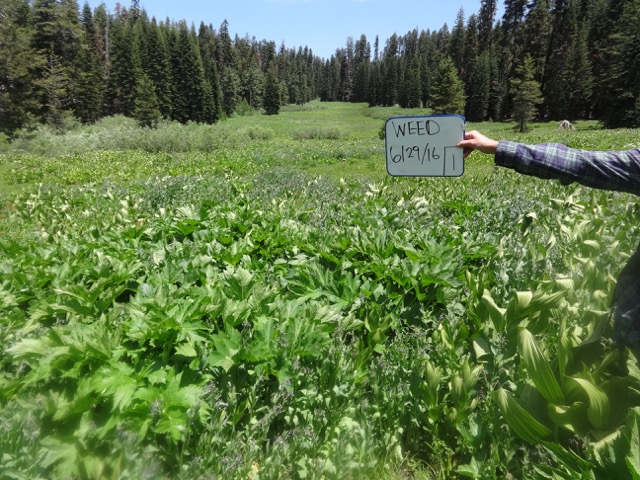 After Grazing