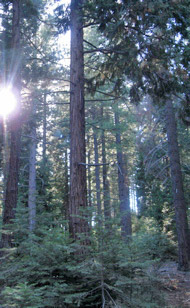 Logging is a major component of managing national forests. The national forest system has often been managed in different ways due to the political direction coming from the  political party in control.
Under the two terms of the Bush Administration,  "use" groups were highly favored with policies and decisions aimed to produce more logging, mining, grazing, and motorized recreation use.
Under the Obama Administration,  rhetoric clearly shifted to give stronger support to protecting the environment. Actual changes in policies have not yet matched the conservation promises.
Given the new administration, we are prepared for policies to move far away from the environmentally sensitive policies of the former administration.
Here in the Stanislaus National Forest, timber sale levels have fluctuated over time. During the economic recession, the demand for wood decreased significantly. Now the market is flooded with wood from salvage logging many megafires as well as from recent bark beetle mortality.
CSERC has consistently supported a moderate level of thinning logging projects within the Stanislaus Forest, especially when extra protection is provided for wildlife. Our staff recognizes that frequent wildfires historically kept many areas of the forest open and park-like. Without frequent low-intensity fire, the conifer forests often become choked with thickets of understory trees. Not only do those trees compete for limited moisture during dry years, they can serve as ladder fuels that can carry flames into the canopy of mature, over-story trees.
When logging works for the forest
The Stanislaus has not practiced clearcut logging since the 1990s, largely due to pressure from environmental groups like CSERC. Today our Center provides feedback on logging projects in the Stanislaus, but we have been generally supportive of their thinning logging approach.
Recently, the Stanislaus National Forest has attempted to shift its logging policies toward science-based treatments tied to a Research Guide referred to as GTR-220. In the new treatments, on the upper 1/3 of a slope where conditions are warm and often dry, trees would be thinned very aggressively. In the middle 1/3 of slopes, thinning logging would be more moderate, with many clumps of trees left to provide diversity.
Then on the bottom 1/3 of a slope, the naturally moist and cool conditions above a stream provide beneficial conditions to have denser forests.
In those areas, there would be much less logging, and the forest would stay denser and shadier for wildlife species that need those conditions.
More about the environmental issues facing the Stanislaus National Forest
 You can read more about Stanislaus Forest issues in general or read about one of the other main concerns here: