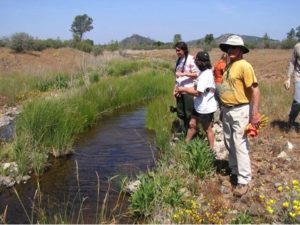 As the weather grows colder and winter approaches, many outdoor enthusiasts may be looking for new places to explore. One often-overlooked area to visit as snow moves into the high Sierras lies down in the foothills — the Red Hills Area of Critical Environmental Concern that is managed by the Bureau of Land Management (BLM).
      What makes this area so special? The character of this unique area is created by the serpentine geology underlying its unique vegetative community. The Red Hills has been listed as an Area of Critical Environmental Concern to protect its rare plants, as well as habitat for the Bald Eagle and a small minnow called the Red Hills Roach. The tiny roach is extremely rare, so although it is fine to look for it, be careful not to touch or disturb the small fish in its limited stream habitat. (The photo shows one of the streams that run across the relatively dry landscape.)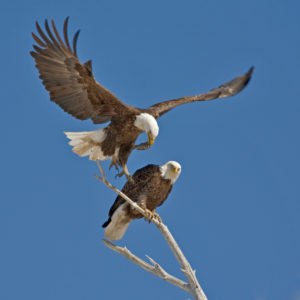 Though the hills won't be in bloom at this time of year, the Red Hills still boasts some great bird watching. Eighty-six different bird species have been documented in the area. The area is home to valley quail, western kingbirds, ash-throated flycatchers, tree swallows, barn swallows, black phoebes, and others. The Red Hills is one of the few areas outside of the California deserts where you can find roadrunners. Additionally, several species of raptors populate the Red Hills including red-tailed hawks, Cooper's hawks, prairie falcons, great horned owls and bald eagles, which roost there in the winter.
You may also be lucky on a warm, sunny fall day to see a horned lizard basking in the sun. Jack rabbits, deer, badgers, and other animals may periodically be seen by lucky visitors.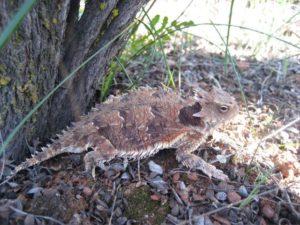 To get to the Red Hills (if you are coming up Highway 120 toward Moccasin and Groveland), turn right at Chinese Camp onto Red Hills Road just past the intersection of Highway 120 and 49. Proceed four miles to the parking area. The Red Hills Management Area begins at the junction of Sims and Red Hills Road. Dirt roads allow access into the public land area, and maps of the eight marked pedestrian trails can be picked up at the kiosk. During the rainy season, drive carefully where streams may overflow across the road. Always remember to leave the area as good or cleaner than you found it, so pack out your trash.