For the past 27 years, CSERC has been making diverse and extensive efforts to protect the environment. The work we do protects many aspects of the environment in the Central Sierra and Northern Yosemite region, from wildlife and plants, to rivers and wild places. We work throughout the region, from the most remote areas of the high country where we locate rare wildlife and monitor meadows, down to the foothills where we test water quality and advocate for open space threatened by development.
Select a topic below ... or scroll to keep reading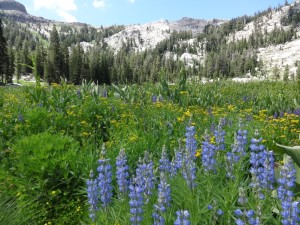 Since our Center is located in the midst of a region that is still dominated by proponents of mining, logging, grazing, development, and aggressive use of resources, CSERC is often the only voice for nature speaking up locally at hearings and meetings.
CSERC is also the only conservation organization that actively monitors the full range of logging, mining, grazing, development, and water projects in the local area.
Without CSERC, the vast majority of threats to nature in this spectacular region would go unchallenged. Many harmful projects would not be altered or blocked by CSERC's science-based testimony and fieldwork. Many precious values would be diminished or lost.
Read on to learn more about the different aspects of the environment we work to protect, and how we go about protecting them. Whether we are testifying at a public hearing about a development project or we are capturing photos of livestock damage in high country meadows, CSERC finds many ways to be your hands at work protecting nature in the Central Sierra and Northern Yosemite region!
Making a difference for nature in the Northern Yosemite region since 1990
We defend old growth forest habitat, wild rivers, threatened wildlife, and all the unique wild places still left within this part of the Sierra Nevada.
We set up motion-triggered cameras in the National Forest, Yosemite National Park, and other parts of our local region to look for rare wildlife species.
We advocate for the environment as participants in collaborative groups like YSS (Yosemite-Stanislaus-Solutions) alongside representatives from agencies, industry and NGO's to strive for compromises that benefit the forest.
We go out into the forest to visit every proposed timber sale, road project, pesticide application, or other threat to nature on USFS lands; then we respond with written comments and legal input for controversial, potentially harmful projects.
We attend utility meetings and federal re-licensing sessions to speak for rivers and water resources in debates over water development.
We monitor water quality in forest streams to look for contaminants that pose health risks to forest visitors.
CSERC staff gives expert testimony at public hearings, board of supervisor or planning commission meetings, and state or federal comment sessions.
We review and respond to every proposed development project across the private lands of Tuolumne County, plus all large projects in Calaveras County.
We monitor livestock grazing on public lands in the region - measuring meadow grasses and photographing meadow systems that are suffering from over-grazing, stream bank damage, or meadow down-cutting.
Each year CSERC presents free slide show programs about water, wildlife, and forests to more than 8,000 students or members of community groups. (Learn about CSERC's Educational programs)
Our center runs public education ads in newspapers to promote Nature's needs and to raise regional residents' awareness about local environmental issues. We keep our website up to date with current news about environmental issues, and maintain a social media presence to further spread awareness.
We organize and inform volunteer activists to provide support for wildlife and water resources during public comment periods for a wide range of policies and projects. (Learn about CSERC's volunteer efforts)
With the help of an extraordinary group of volunteers, CSERC partners with various agencies and groups to engage in restoration and stewardship projects, primarily on the Stanislaus National Forest. 
Volunteers completed over 1,450 hours of service in 2016, completing 16 projects ranging from trail rehabilitation, fencing, tree planting and more. Click here to read the 2016 Volunteer Report.
CSERC contributes staff time and research equipment in cooperation with Yosemite Park biologists to assist with research studies looking for rare wildlife species in Yosemite.
We act as watchdog monitors for all proposed projects in Yosemite, including attending park meetings, reviewing all project related documents, and submitting written comments.
WE SERVE AS YOUR HANDS AT WORK TO PROTECT WILDLIFE AND WILD PLACES IN THIS SPECTACULAR REGION OF THE MOUNTAINS